With Father's Day coming around, I figured to put together a blog post on Allocated Bourbon's my very own husband has been on the hunt for Any of these would make a fantastic gift for any Bourbon loving individual.
It is important to note that since some of these bottles are so limited, some of these bottles will not make the shelves so you might have to ask if they have in stock and do some hunting. Also, some liquor stores jack up the price and buying them online (secondary market) will also come at a higher price tag but the good news is that if you live in a state where the liquor stores are not state-run, like in North Carolina, they might not be as difficult to find as it is for us.
Below I will share with you our TOP 10 choices that should retail for under $100.
1. Blanton's
This is what started it all! About 4 years ago, I was looking for ideas on a gift my husband's birthday and I messaged one of his friends for ideas on a nice bottle of Bourbon and he named several bottles including Blanton's and me not knowing a thing about bourbon made a Google search and decided on this bottle just because "it looked cool". Little did I know that this would be SO HARD to find. I called and visited a total of 24 liquor stores before I landed a liquor store who had 2 available but was only allowed to buy 1. If you find this bottle…..SNAG IT QUICK!!!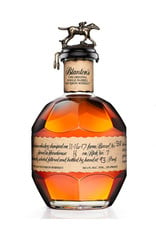 2. Colonel E.H. Taylor
Single Barrel
We have been on the hunt for this bottle and have been unsuccessful here in North Carolina. Our friends from Texas were able to find this for the hubby and we see them in a few weeks so we will officially have this one home!
3. Elmer T Lee Single Barrel
4.Rock Hill Farms
5. Eagle Rare
6. Old Ezra 7 year
7. Larceny Barrel Proof
8. Elijah Craig Barrel Proof
9. Weller 12 and/or Weller Antique 107
10. Knob Creek 12 year
Bonus- Other Allocated Bourbons that might not be as hard to find
Booker's
Buffalo Trace
Heaven Hill
McKenna 10 Year
Four Roses Small Batch Select
New Riff
Blood Oath – This one is neat to find. Every year is different. We have been able to find 2019 (Pack 5) and 2020 (Pack 6)
If you are last minute (like me), below are some Amazon gift ideas for the Bourbon Lover! Click on any of the images below to shop!

Hope you find this helpful! If you know of any others I should add here, send them my way!!
This is our little collection….have ways to go but it has become a fun hunt for us!
Happy Bourbon Hunting!
Xx,